Services
What we do
Dream Shire and Carriage Company has several packages to suit your needs. We cater to large and small events. We provide carriage ride service to Northern Virginia, Washington DC, and Eastern West Virginia. We can offer city tours. We also have a pick-up and drop-off service. We have an attractive fleet of horses and carriages that we can customize for your special occasion.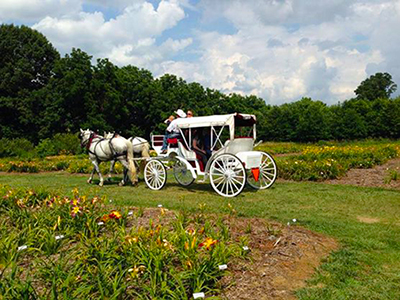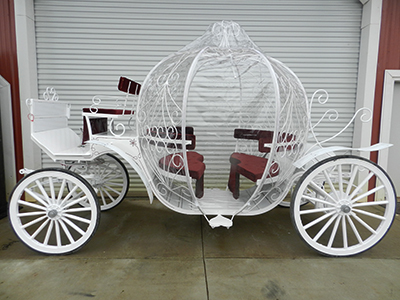 You can schedule a reservation or just call us when you're in the Northern Virginia area for a pickup.
You can always expect professional and courteous service. Personalize Your Event!
Our goal is to make sure that your ride with us is an enjoyable experience that you can tell your family and friends about. Call us today!
Free consultations
Free quotes
Satisfaction guaranteed
What you need to know
Rates:
Rate and package prices are quoted only by phone. A note about phone calls... Please leave a message and calls will be returned within 24 hours. A signed contract and deposit of $100 is required to reserve ALL dates. All Carriage Ride Delivery includes travel up to a 20 mile radius of 20119. Mileage after 20 miles is $1.50 a mile ROUND TRIP.
Cancellation:
If cancellation occurs less than six weeks and more than three weeks from the scheduled event, 50% of the total invoice for the event (less the $100.00 deposit) will be invoiced by Dream Shire & Carriage Company.
If cancellation occurs less than three weeks from the scheduled event, the entire fee of total invoice (less deposit) will be invoiced by Dream Shire & Carriage Company.
In the event of inclement weather, Dream Shire & Carriage Company will do everything possible to provide the expected services even if the weather is less than ideal with the exception of thunder and lighting.
Dream Shire & Carriage Company reserves the right to make a final call based on the safety and well being of the guest, equipment and of course for the safety of the horses.
In the event that something happens to the horses (such as sickness or lameness) or there is equipment breakdown that prevents performing contracted services, Dream Shire & Carriage Company will notify the Client immediately. A refund of all monies paid will be refunded.
General Information:
A note about the Rig and Trailers:
Customers are responsible for ample parking of all rigs and trailers. The rig and trailers will need 100 ft long space and a 75 ft long space for parking and unloading.
Rates Include Everything
(except taxes, gratuity, parking)
No Hidden Fees
Any Occasion
(party, wedding, prom)
Our Carriages Are Ready
Special Packages
(party, wedding, prom)
No Problem
We are a family owned and operated business and strive to beat every competitor's written quote! We have the capability to perform multiple events on the same day at the same time. Call us for scheduling.
BAD WEATHER POLICY: MUST Call in and Email request to CANCEL 24 Hours in advance of your event date and event start time in the event of rain, high wind or an inclement weather forecast. We will reschedule your event or try to fit it in the next preferred date.
TRAVEL POLICY: All prices include one (1) hour travel time to your destination. Additional travel time fees my occur depending on your location. Call us for details.
If you'd like to reach us by phone to discuss your upcoming event, please call our direct line 703-300-5036. Please leave a message if we're on the other line and we will get back to you.
Thank you for your interest in Dream Shire & Carriage Company!
Fill out our Contact Us Form for prompt response. We look forward to hearing from you.