Photos
Photos of our Carriages & Wagons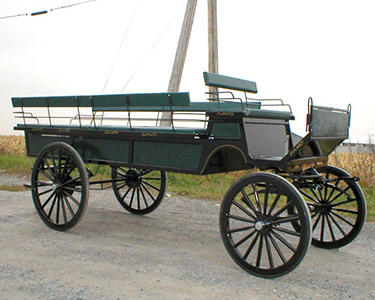 12 to 16 passenger Wagonette
This timeless model is made for pleasure driving, tourism, and parades. It is very popular for trail riding. Its full fifth wheel and hydraulic brakes make it easy to handle.
Length:180 in / 4.57 m
Width: 64 in / 1.62 m
Height: 74 in / 1.88 m
Track: 58.5 in / 1.49 m
Front Wheels: 36 x 2 in / 0.91 m x 5.08 cm
Rear Wheels: 42 x 2 in / 1.07 m x 5.08 cm
Weight: 1230 lbs / 560 kg
8 passenger Wagonette
This timeless model is made for pleasure driving, tourism, and parades. It is very popular for trail riding.  Its full fifth wheel and hydraulic brakes make it easy to handle. Available on wood or pneumatic wheels.
Length: 140 in / 3.55 m
Width: 64 in / 1.62 m
Height: 74 in / 1.88 m
Track: 58.5 in / 1.49 m
Front Wheels:  36 x 2 in / 0.91 m x 5.08 cm
Rear Wheels: 42 x 2 in / 1.07 m x 5.08 cm
Weight: 1025 lbs / 466 kg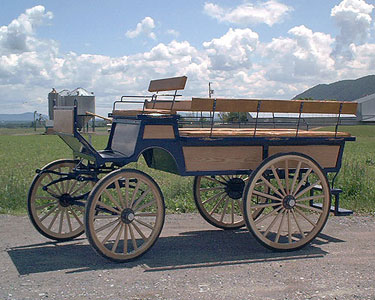 Limousine
In this high class vehicle, the page and flower girl can accompany the bride and groom for beautiful pictures. It comes with a full fifth wheel, hydraulic brakes, fold down top and a stylish storage box.  Seats six comfortably with the driver up front.
Length: 174 in / 4.42 m
Width:   66 in / 1.68 m
Height:  84 in / 2.13 m
Height (top down): 77 in / 1.96 m
Track:   51 in / 1.30 m
Front wheels: 36 x 2 in / 0.91 m x 5.8 cm
Rear wheels: 42 x 2 in / 1.07 m x 5.8 cm
Classic Vis-à-vis
This carriage's beautiful swell bodied frame makes it very pleasing to the eye. A must have for any carriage service operation. It comes with a full fifth wheel, hydraulic brakes, fold down top and a stylish storage box. Seats four comfortably with driver up front.
Length: 135 in / 3.43 m (w/o shafts)
Width: 66 in / 1.68 m
Height: 82 in / 2.08 m
Height (top down): 58 in / 1.47 m (coachman's box)
Front wheels: 36 x 1½ in / 91.44 cm x 3.80 cm
Rear wheels: 42 x 1½ in / 1.07 m x 3.80 cm
Weight: 1000 lbs / 455 kg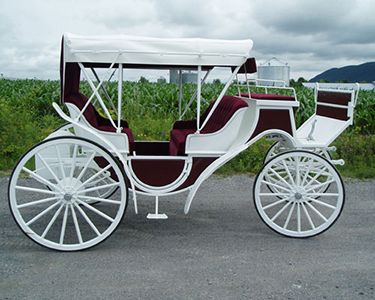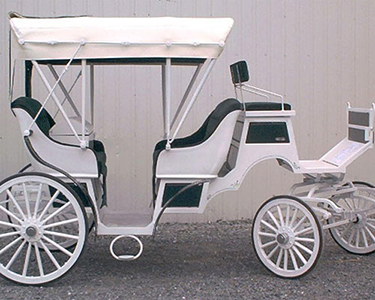 Mini Vis-à-vis
This carriage is a small replica of our Voiture vis-à-vis. It provides a unique style for pony aficionados. It comes with a full fifth wheel, a fold down top and a stylish storage box. Seats two in the back with the driver up front.
Length: 115 in / 2.92 m
Width: 55 in / 1.40 m
Height: 71 in / 1.80 m
Track: 51 in / 1.30 m
Front wheels: 23 in / 0.58 m
Rear wheels: 32 in / 0.81 m
Weight: 460 lbs / 209 kg
Cinderella
This finely upholstered iron wrought carriage will underline the beauty and romance of any special occasion. Carriage service operators owning this vehicle must be ready to attend many weddings and proms. Comes with full fifth wheel, hydraulic brakes, transparent curtains and a stylishstorage box. Seats six comfortably plus driver and cabman.
Length: 155 in / 3.94 m
Width:  71 in / 1.80 m
Height: 86 in / 2.18 m
Front wheels: 36 x 2 in / 0.91 m x 5.8 cm
Rear wheels: 42 x 2 in / 1.07 m x 5.8 cm
Weight: 965 lbs / 438 kg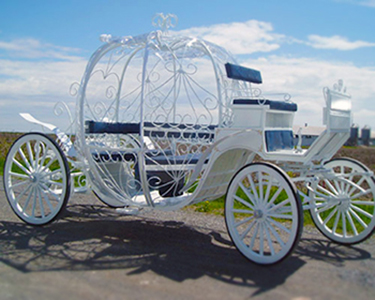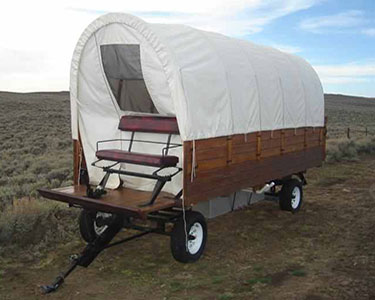 Covered Wagon
The Covered wagon, also known as a Prairie Schooner, has become a cultural icon of the American Old West. Live again in this era by taking a ride on one of our Covered Wagons and learn how the covered wagon was commonly used for transporting goods within the United.
Overland immigrants typically used farm wagons, fitting them with five or six wooden bows that arched from side to side across the wagon bed, then stretching canvas or some other sturdy cloth over the bows, creating the cylindrical cover. Sometimes, these wagons would be as long as 15 ft (4.6 m).
We are a family owned and operated business and strive to beat every competitor's written quote! We have the capability to perform multiple events on the same day at the same time. Call us for scheduling.
BAD WEATHER POLICY: MUST Call in and Email request to CANCEL 24 Hours in advance of your event date and event start time in the event of rain, high wind or an inclement weather forecast. We will reschedule your event or try to fit it in the next preferred date.
TRAVEL POLICY: A travel fee of $125 will be added and paid in advance to any and all package prices for traveling to the city of Washington DC. Typical mileage rates are $1.50 a mile ROUND TRIP. Travel time is charged depending on your location. Call us for details.
If you'd like to reach us by phone to discuss your upcoming event, please call our direct line 703-300-5036. Please leave a message if we're on the other line and we will get back to you.
Thank you for your interest in Dream Shire & Carriage Company!
Fill out our Contact Us Form for prompt response. We look forward to hearing from you.